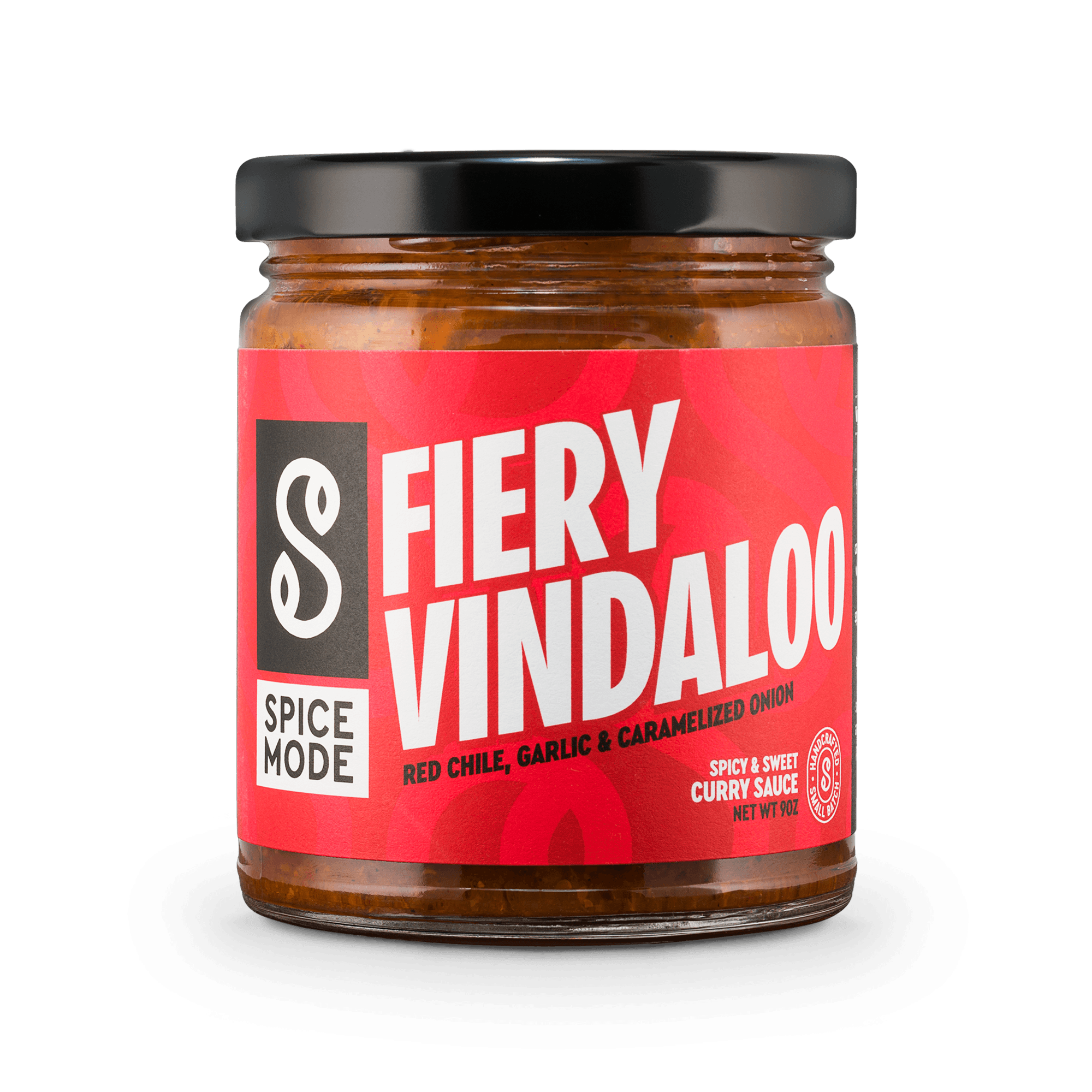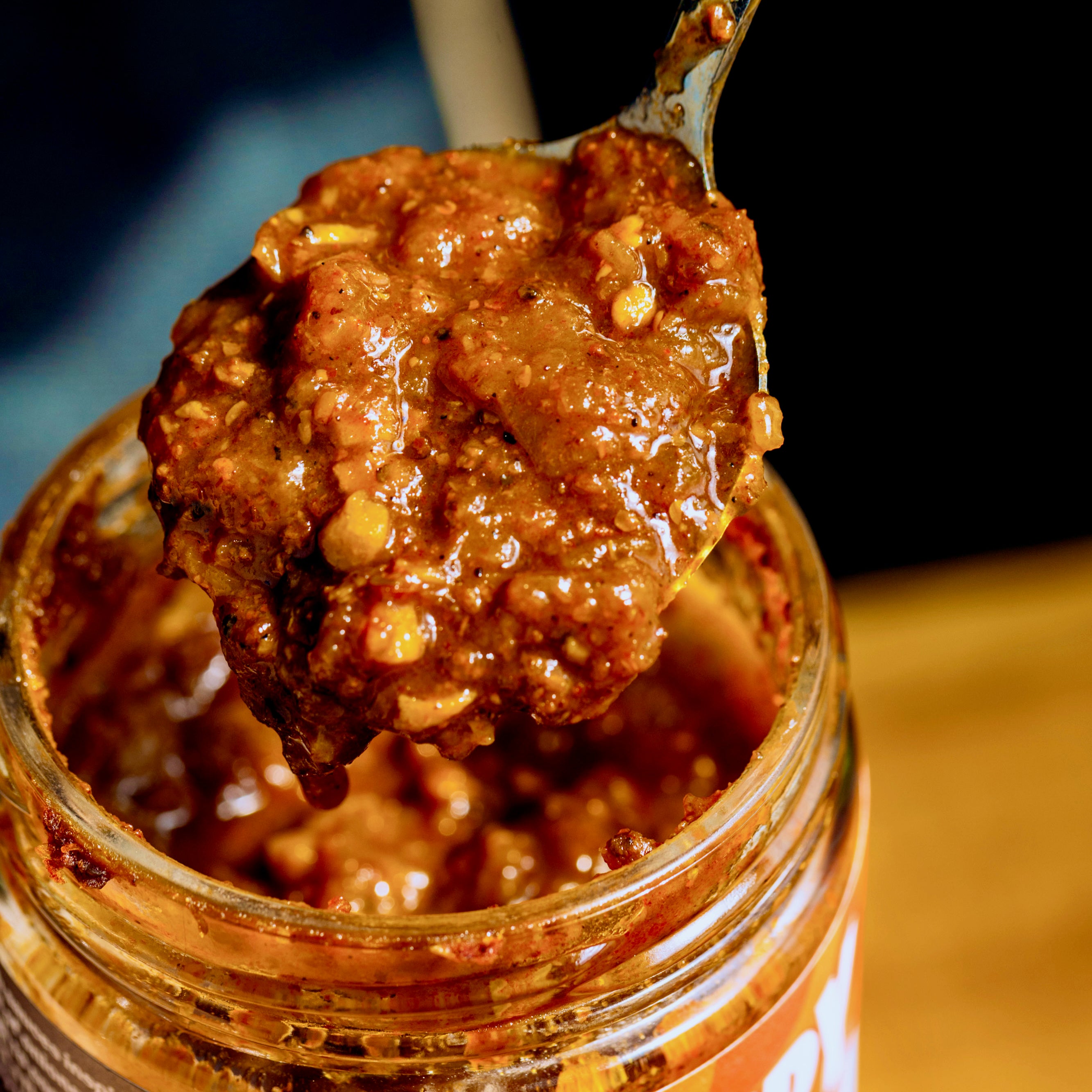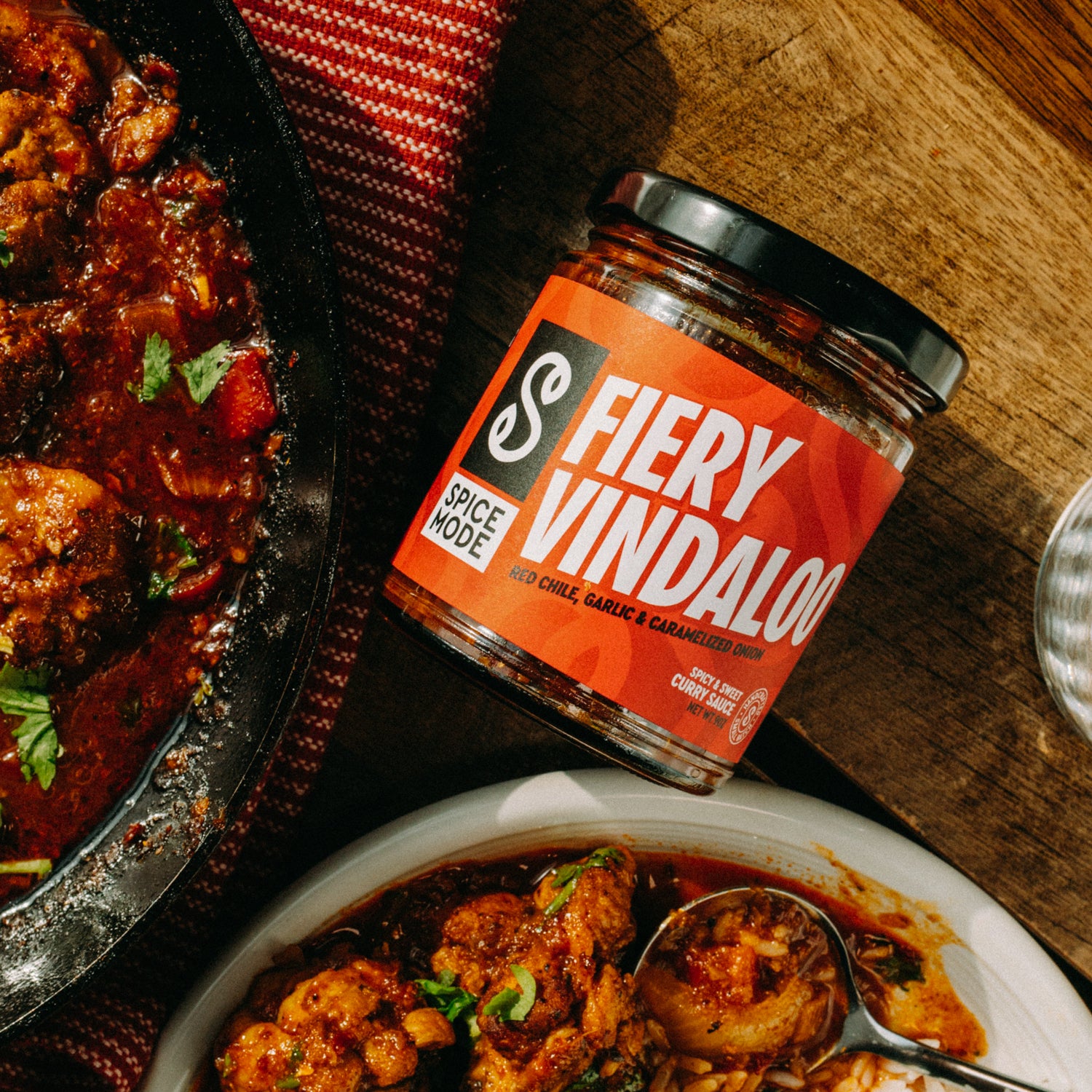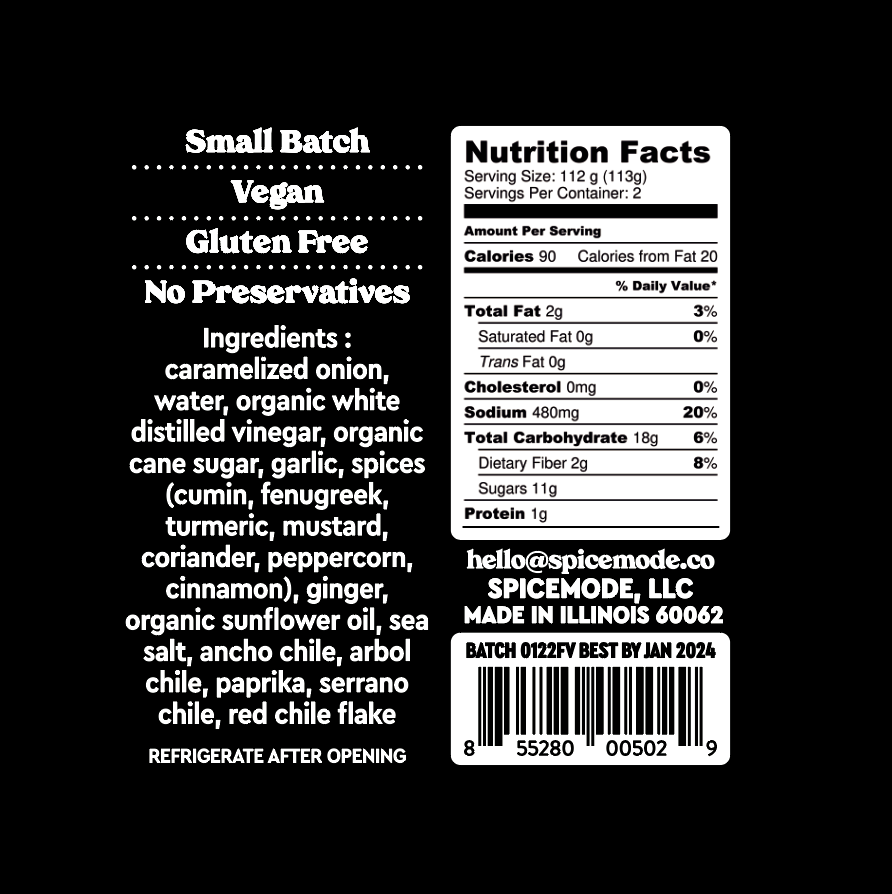 Fiery Vindaloo
---
Sweet & Spicy | Red Chile, Garlic & Caramelized Onion. Enjoy the flavor of Indian spices blended with Mexican chilies, and add flavor to your dishes in a way you never thought possible. Best By Date : January 2024 | Spice Level : 5 / 5

Ingredients & Nutrition Facts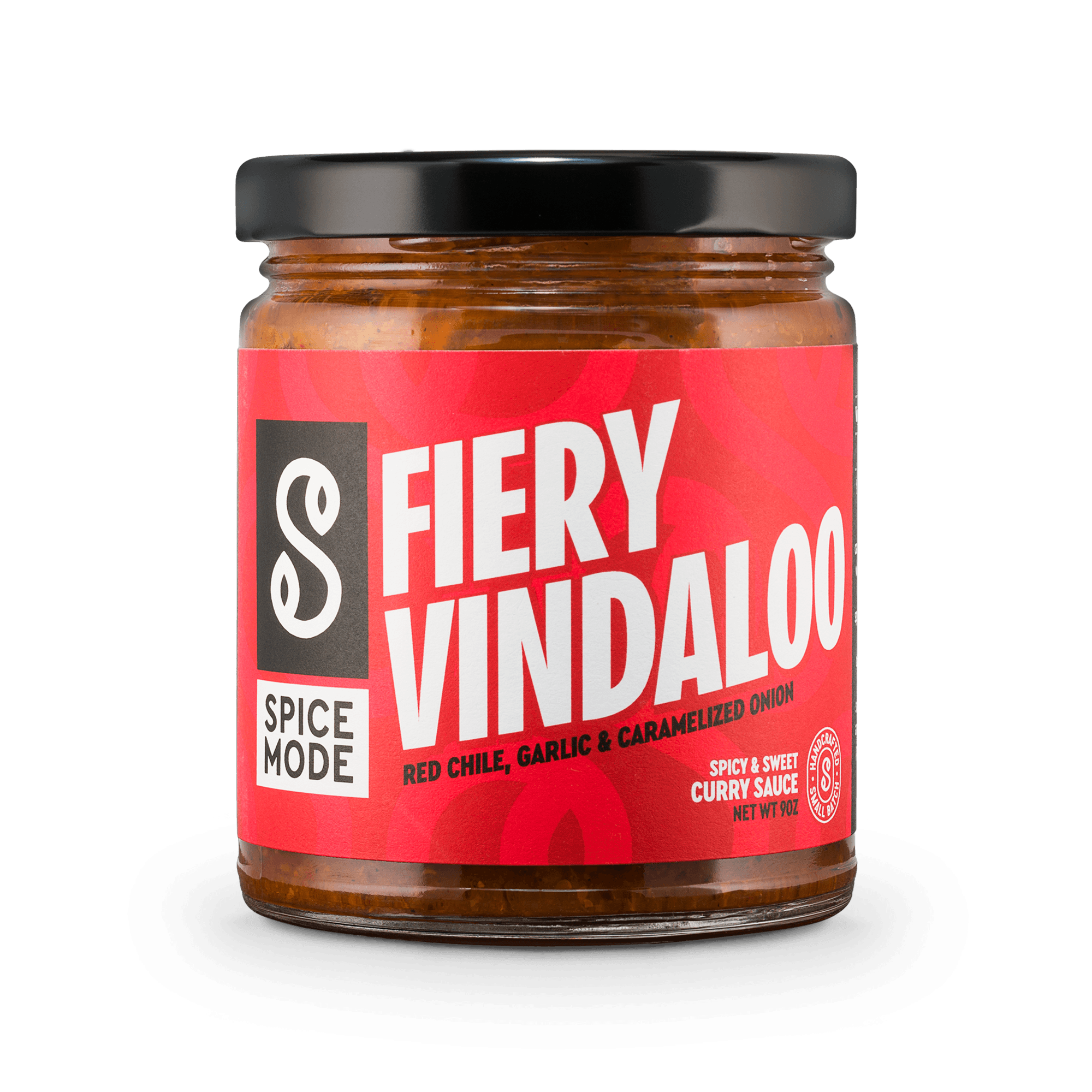 100% Pure Flavor. Small Batch, Vegan & Gluten Free. No Preservatives. Low Sodium.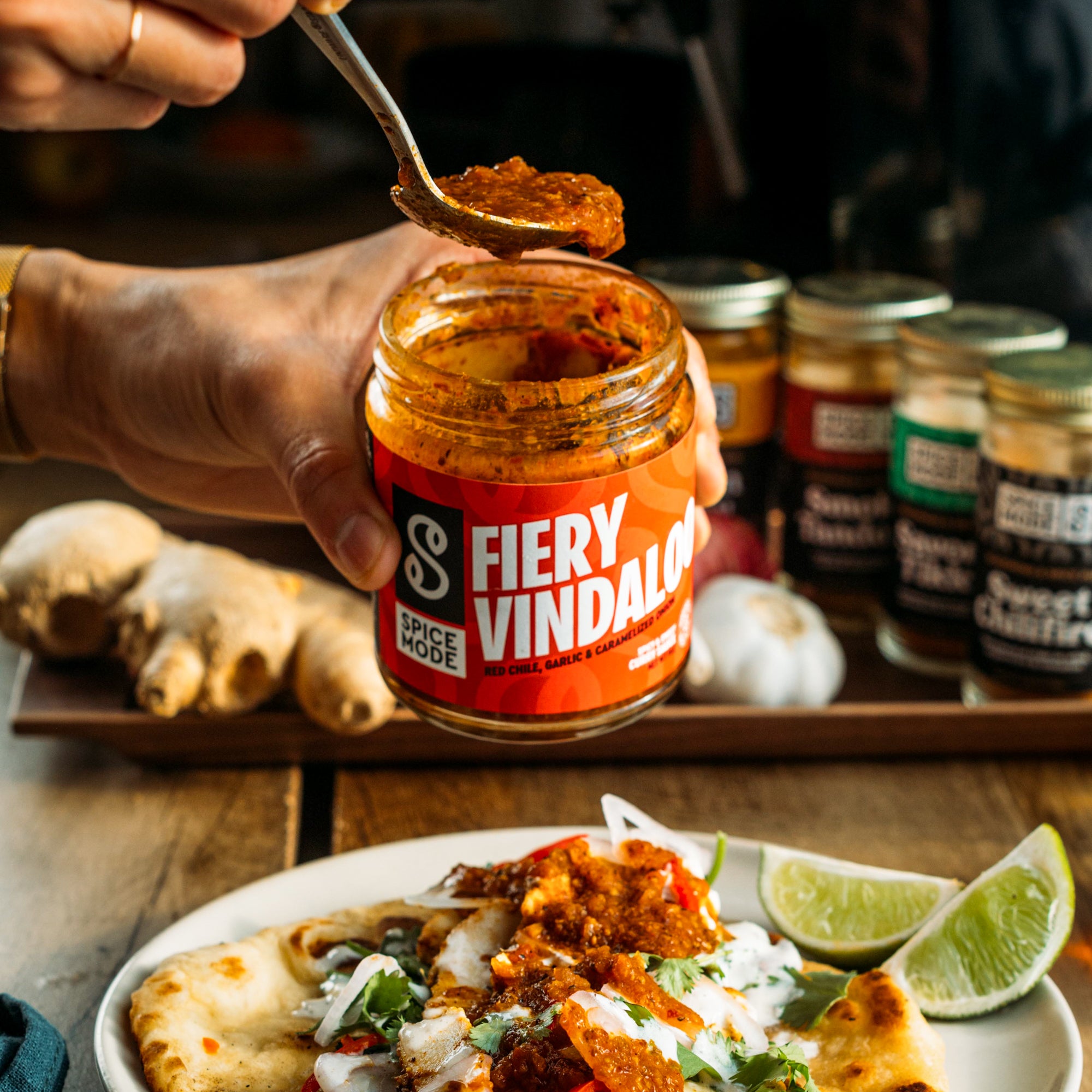 Pure Flavor, No Fillers
Unlike other brands we do not use any tomato puree, coconut milk, cream or nuts. Giving you the freedom to cook the way you want.
Bold & Delicious
Amar has been perfecting his recipes for a decade. One taste and your meals will instantly be transported into another dimension of flavor.
Everything that Spicemode makes is exceptional, quality and the easiest way to cook something delicious.
Put simply Spicemode is fantastic. We have been using them in any, and every dish that we cook.
I used to be a plain Jane kind of eater, but Spicemode has woken me up to a world of flavor. They are outstanding. 
We've tried just about every spice and sauce offered by Spicemode and are seriously obsessed with all of them.
How do I cook with Spicemode?
Use Spicemode to add flavor to all your favorite ingredients and recipes — curry is only the beginning.
Bold & Flavorful Homestyle Curry

This is the style of cooking I grew up eating, and what inspires our products.

Curry Sauces : Add 1/2 cup of sauce to 1 1/2 pounds of boneless, skinless chicken thighs and slowly simmer on the stovetop for 25 minutes.

Seasonings : Start with a sliced onion, add the seasoning followed by fresh tomatoes and your protein of choice.

Check out the recipe blog for inspiration. 
Indian Restaurant Style Curry

This curry will by saucy and rich. Start by adding tomato paste to a skillet and cook until darkens. Then add 3 tablespoons of the curry sauce or seasoning. Next add the protein of choice and sauté for a few minutes. Add a cup of coconut milk or heavy cream and simmer until cooked through.

Check out the recipe blog for inspiration.
Yes! Add the curry sauce or seasoning to equal parts yogurt, and marinate for 30 minutes before grilling. Check out the recipe blog for inspiration. 
More Ways to Use Spicemode

Think of it as your secret ingredient to putting a flavorful twist on your family favorite recipes or condiments. You can add a spoonful of Vindaloo to BBQ sauce, stir Masala into pasta sauce, Madras into your macaroni and cheese. A sprinkle of Curry in eggs, Chilifire with avacado, and Tandoor with mayo -- the possibilities are endless.
What Makes Our Flavors Unique?

Amar is born in Chicago from immigrant parents. His upbringing is as unique as his seasoning recipes. You will not find another curry powder that has herbs or a Vindaloo sauce with Mexican chiles. Spicemode is one-of-a-kind.
This product is rated 5.0 of 5.0 stars.
It has received 76 reviews.
What a find!
I'm used to eating wonderful food from around the world. But having moved to this very small town, spices like these are few and far between. I absolutely love, love, love the Vindaloo sauce, as well as the Sweet ChiliFire, which I put in everything it seems. Nothing better. I'm so glad
I found Spice Mode
Our favorite sauce!
My husband LOVES this curry sauce. It's spicy and flavorful and reheats really well!
Exceptional Flavor Experience with Spicemode Spices!
I recently purchased a variety of Spicemode spices, and I must say, they have completely transformed my culinary adventures. From the moment I opened the package, I was greeted by a captivating aroma that hinted at the quality and depth of flavors to come.
Spicemode has truly impressed me with their exceptional spice blends and attention to detail; moreover, there are no added sugars, fillers, etc..
Each blend is meticulously crafted, combining a harmonious balance of spices that elevates every dish to new heights. This saves you major time in the kitchen guessing how much of each slice to add. Whether I'm cooking up a traditional Indian curry, adding a touch of spice to a stir-fry, or simply seasoning roasted vegetables, these spices add a burst of authentic flavor that makes every bite a delight. Shoot, it allows me to add authentic flavor to a dish i otherwise normally wouldn't (think potato salad or grilled cheese).
What truly sets Spicemode apart is their commitment to using high-quality ingredients. You can taste the difference in every sprinkle. The spices are vibrant, fragrant, and deliver a level of freshness that enhances the overall cooking experience. The fact that their products are crafted in small batches further ensures their excellence and attention to detail.
Not only do these spices deliver in terms of taste, but the packaging is also visually appealing and convenient. Each spice comes in an elegant, resealable tin, preserving the flavors and making it easy to store. The labels are clear and informative, and not to bulky.
You have a regular costumer !
Thanks again.
Amazing flavors!
The Fiery Vindaloo is the best sauce I've had in a long time. I use it as a dip for chips and veggies. I've also mixed it with greek yogurt to make a delicious dip with chips and my parathas. Definitely recommend anyone who loves flavorful food to try this sauce!
The seasonings are really good too! I threw on some with my paneer and veggies today and it felt like food straight from my home back in India.
My hubby's favorite with scrambled eggs
Although I don't eat the Fiery Vindaloo because of the garlic (I love garlic but it hates me), my husband LOVES the Vindaloo and uses it with breakfast and on meats. Our joint favorite is the Sweet Chili Fire!!!
Delicious, Quality
I sent Spice Mode to my son and his wife in L.A. Their response was Wow this is delicious and you can taste the quality! They work hard all day and love Spice Mode for the ease it makes for them to have a delicious quality dinner.